Jeff Dunmyer started racing in 1978, unfortunately that year was shortened when the racetrack officials learned that Jeff was only fifteen years old. So in 1979, Jeff officially began his racing career. He started racing in the street stock division at several area race tracks including Meyersdale, Jennerstown, Bedford and Motordrome.

These tracks were all dirt facilities then. The race car that he used that first year was a 1974 Pontiac Firebird equipped with a 455 cubic inch Pontiac engine. That car was painted red and blue and was numbered 07. Although record keeping was not a big priority back then, we know that Jeff collected several feature event victories in that division that first year. In 1980 Jeff moved to the Semi-late division. That car was a home built copy of a Gerald Chamberlain chassis that Jeff and his dad built. A Camaro body was fitted on the chassis and it sported a 355 c.i. Chevrolet engine. He raced that car at Bedford, Jennerstown, Motordrome and Latrobe Speedways. We are not sure of the win total in 1980 but we do know that he won the Jennerstown Speedway championship that year. Jeff used the same car for the 1981 season and won the Track Championship at Motordrome Speedway.

1982 was the first year that Barry and Brian Bruening became involved with Jeff's team as crew members. Over the 81-82 winter they helped Jeff replace the stock Camaro front clip with a Chamberlain tubular front clip and changed the body from the late seventies steel Camaro body to a fiberglass 1982 Camaro body. We raced mainly at Bedford, Jennerstown and Motordrome with occasional visits to Lernersville Speedway and Cumberland Speedway and I think that he raced at North Hills Speedway once. In all in 1982 we raced 45 races won 15 features and Jeff was Co-Champion with Charlie Meyers at Jennerstown. The following year Jeff purchased a new Gerald Chamberlain chassis and covered it with another Camaro body. We never really got all the bugs worked out of that car, but did manage to win one feature with it at Jennerstown.

Jeff was asked to drive for Randy and Terry Miller the following year so he didn't race any of his own cars in fact he sold the Chamberlain car. Millers car was a Canadian Stock Car chassis with a Dodge Mirada body on it and was powered by a Chrysler engine. They raced only at Jennerstown and went winless that year. 1985 Jennerstown went to a special event only schedule where they only held a few races. Jeff got his old car back out just for a few races there and also raced at Windber Speedway three times. He won one race there at Windber, but none at Jennerstown.

The next two years Jeff didn't race at all which, if you know Jeff, had to be really hard. Then in 1988 Barry and Brian Bruening had built a street stock that they were attempting to drive alternately on Jennerstown Speedway's newly paved half mile. We officially started Bruening Motorsports. Marlon "Griff" Griffith also came aboard the team.
Jeff's dad, Clifford, had given them the car and some of the other parts to build the car so it was only natural that when the Bruenings felt that they weren't getting the car up to speed that they asked Jeff to drive it for them. That car was a 1976 Chevelle Malibu powered by a 355 cu. in. Chevy.


In Jeff's first race he finished forth and claimed that it was like driving down the turnpike. Although Jeff didn't win any races in 1988 he began the '89 season by winning the opening day race at Jennerstown. He won one other race that year and finished 2nd in the point standings to New York invader Vince Randisi. 1989 was also the year Kevin Custer came aboard the team. In 1990 still driving the same car We won two races at Jennerstown and one race at the Motordrome Speedway which had just paved. Jeff also took home championship honors for the Jennerstown Speedway. We also took part in the National Parts Peddler Street Stock Race of Champions at the Pocono International Raceway. We qualified 25th out of 160 cars but got tangled up in a few wrecks and finished 32nd.


The next season turned out to be a dream season. Our team had built a new car over the winter, this car was built from a 1975 Chevelle Malibu that we bought and drove home. It turned out to be the best car that we had ever had. The season started at Motordrome Speedway where we won the opening race and then won all but two races there that year and at Jennerstown we won all but 6 races. The total for 1991 was 34 feature wins and both track championships. That set an all time western Pa. record for wins in one season. That was the last year that we ran Street Stock and at the end of the season we began to run a Prostock that we purchased used. The last race of '91 was the Fall Festival race at Jennerstown for Late Model and Prostock cars. Jeff started on the pole in the Prostock portion and led the first 67 laps of the 100 lap race but suffered a deflating right rear tire and ended up sixth. 1991 was also the year Brian Donia came aboard the team.
Over the winter of 91-92 we purchased another Prostock for a backup car. Both cars were Port City built chassis' with Chevrolet Lumina bodies on them still running a 355 cu. in. engine. 1992 was a learning year for our team as these chassis' were quite different than a Street Stock car. For the first time since racing at Meyersdale early in his career Jeff rolled a race car on its roof. Not only that three weeks after the first rollover at Motordrome we rolled our backup car over at Jennerstown. Even with all that we still ended up winning nine feature events and finished in the top three in the points at both tracks. The next year our team purchased a brand new Port City chassis and fitted it with a '92 Camaro body. We kept one of the Luminas for a backup car that we didn't have to use that year. We finished the year pretty good in '93 winning 14 feature events and both track championships. 1992 was also the year Phil Stutzman came aboard the team.


1994 was also a pretty good year winning both Track Championships and 17 features but we had to have our '93 chassis clipped in the front after a nasty wreck at Jennerstown. While it was out of service Jeff managed to win three additional features with the Lumina.
In 1995 the race tracks made a change by dropping the old late model class and renaming our division Late Model. This made us eligible for NASCAR's Winston Racing Series points. Our first year chasing NASCAR points was a challenge to us, but we ended up finishing second in the Northeast Region. We also won the track championship at Jennerstown but missed the title at Motordrome by two points. In the beginning of that year we replaced our Lumina with a '95 Port city chassis with another Camaro body but this car was still basically a backup as we ran it only sparingly. 1995 was also the year that Mel Cable and Brian Woy came aboard the team.
In 1996 our year was sort of regular, meaning we had no major crashes or really anything that was outstanding. Capturing both track titles and winning 12 feature events it was a good year but finished 5th in the Winston Racing Series points. At the end of 1996 "Griffie" decided to leave Bruening Motorsports to allow more time with his family.
In 1997, we continued to race our 93 chassis and use our 95 chassis as a back-up / show-car. This year we reskinned both cars with '97 Monte Carlo's. The move to Monte Carlo proved to be a smart move as we bettered our average win total. Again collecting both track titles and 18 feature event victories. 1997 ended on a great note as we were able to capture the Winston Racing Series Northeast Region Championship. This will be a special year that this team is not likely to forget anytime soon.
In 1998, we prepared a brand new car (1998 Chevrolet Monte Carlo) with the 98 Port City chassis. This year seemed to be quite a bit harder than 97. We began the new season with the new car and engine hoping that we could continue where we left off the year before. Unfortunately that didn't work out like we had planned. We really seemed to struggle in getting the new car to handle like we wanted it to. Although we did manage to pick up ten feature event wins and one track championship it was not the season that we had hoped for. The team really worked hard at trying to figure everything out again and always were all pulling in the same direction.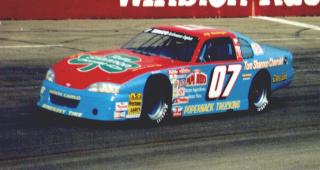 1999 was a celebration of sorts of Jeff's twentieth anniversary as a race car driver. The team was in the spirit and painted one car as Jeff's first Firebird was painted back in 1979. Although racing in 1999 was still not up to our standards, we captured a few feature event wins but no championships. We felt toward the end of the season that we had indentified some of the problems that we were experiencing and worked over the winter to try and correct some of them. Kevin's brother Tim Custer joined our team this season adding his mechanical knowledge to our team. Not using this as an excuse but there were a lot of personal projects going on like house building and job changing that probably took some focus away from our effort.
2000 was a regrouping year, we had indentified what we felt were our weak points and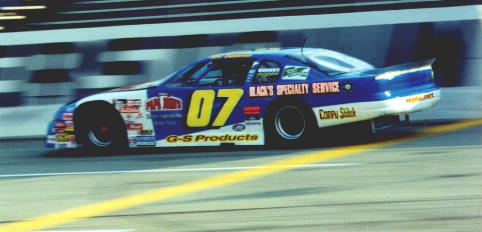 worked hard to overcome them. We also had to limit our racing to one track due to financial reasons. The first thing that we did over the winter was to move our engine program in-house. We added Dan Breckenridge to our team to oversee our engine program. We had identified some of our handling problems and made some significant gains as the year progressed. The year started off a little slow but we steadily picked up momentum as we went and felt at the end of the season that we were a contender again. Although we only won one feature event we did finish second in the championship points.


Looking ahead into 2001...... You'll just have to come and see!
B. Bruening,
B.M.S.